Maturing Yorkshire Orchard
The site
As with many of our productive sites, this Yorkshire truffle orchard required pH adjustment prior to planting. This is an easy and reliable step that we can help guide you on. After soil amendment, the site was planted in 2009 and is just under 1Ha in size, with the core component being a mix of hazel and oak.
Results so far
This plantation has been extremely well cared for, with excellent attention to weed control and, is regularly & successfully hunted. This site really is a "model plantation".
Tree development has been superb from the beginning, The site has been very well monitored and is regularly tested for pH and truffle colonization rates. We receive regular updates and pictures from the owner, including the regular truffle finds.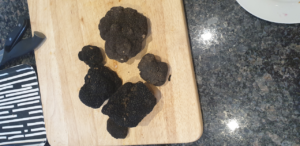 The initial truffle harvest was discovered by chance, before trained dogs had been brought onto site, by the owner accidentally kicking surface-formed truffles during an afternoon walk! Similarly, to many of our UK sites, including the first orchard to ever produce truffles in the UK (our site in Leicestershire in 2015) initial production took 6 years and now continues annually.  
Contact us
If you have a site that you'd like to use for truffle cultivation, please contact us, and we can talk you through what conditions are needed, before assessing your site to check for suitability. We will help guide you at every step of the way!