Fruiting Scottish truffle orchard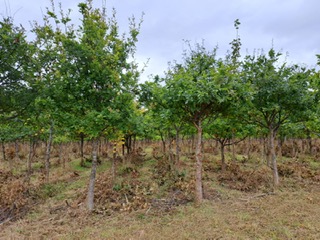 The Site
Planted on pH-adjusted soil in 2011 at just over 6 Ha, the site is a good-sized commercial plantation and was planted primarily with a mix of Oak and Hazel trees inoculated with summer truffle. To increase shading within the orchard, a component of none-host trees was also added, which included field maple and ash. A wildflower seed mix was also used in-between the rows.
Results so far
Production was first discovered in 2017, which was 6 years from planting. The initial find was during a truffle-dog training day that included a walk through the orchard, and it's likely that the orchard may have begun production earlier than this.  
The sites continues to produce annually, with more areas of the orchard coming into production. The summer of 2022 saw widespread droughts across Europe which impacted truffle quantity and size, but even so this site is still producing truffles in excess of 200g each.  
Outlook
The ash component of the orchard has suffered with ash die-back disease and these trees are gradually being removed, which is slightly earlier than originally planned, but it shouldn't impact the orchard's production.  The site is also currently undergoing a programme of major pruning to improve accessibility on site for hunters and for maintenance access. With only 6 years from planting to production, the outlook for Scottish truffles is good!