European truffles thriving in California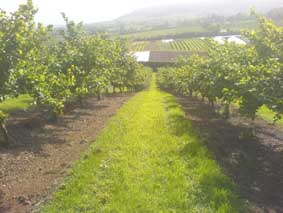 The site
In many areas of North America, truffle sites are often planted adjacent to vineyards. This site in the wine region of Sonoma county is no exception and sits nestled in-between different varietals of grapes. The site was planted primary with hazel and oak, in 2011 and is overseen by our arm in America: The American Truffle Company. Established by orchard owners Sandy and her late husband, former Intel CEO Paul Otellini, two blocks were planted. One was inoculated with the Perigord truffle (Tuber melanosporum) and the second was panted with the summer or autumn truffle (Tuber aestivum).    
Results so far
In 2018, the first T. melanosporum truffle was found by Chris Majcherek, who discovered the truffle with Bella, his Border Collie. "It didn't really sink in until I smelled it," said Majcherek. "What an aroma. I'll never forget the moment!". This initial truffle weighed 108g with Chef Ken Frank of Michelin starred La Toque in Napa being present for the weighing in of the truffle and ready with ingredients on hand to whip up a dish of Sandy's favorite truffle pasta. "I always knew it would happen," said Ken. "But I didn't expect that my first Périgord truffle of this season would be from California. The perfume of this fresh truffle was tremendous - just what we chefs swoon over. This is the real thing. It is a game changer!"
Then in February 2020, the T.aestivum block of trees began production and the first truffles were found by the orchard manager and his dog on a routine check and despite the season they fully ripe and very aromatic
We can help you, no matter where you're based in the world
We do have a keen focus on supporting the truffle industry in North America and Northern Europe, but we also have producing sites from as far afield as South Africa and then up to Macedonia and the Netherlands. If you'd like to check if your local climate conditions are favourable for truffle growing, please do get in touch. We are always happy to help!