During our 2015 Napa Truffle Festival, we ran a very successful fungi foray with mycologists David Campbell and Stephanie Jarvis.
After recent rains the finds were incredibly varied with prized edibles including matsutake and elfin saddle-backs.
The real star of the foray though, was a surprise find of a rare truffle species by Lolo and her expert handler Alana McGee.
Around the base of a young Douglas fir a fruity-smelling truffle was unearthed.
After analysis here at MSL, the truffle appears to be Balsamia magnata, a native to the US but still a rare (and edible) find!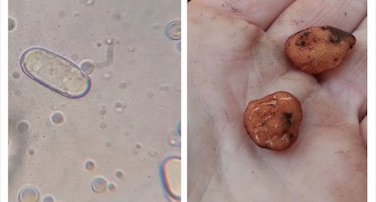 Truffle native to California